About Us
Our Practice Is Family-centered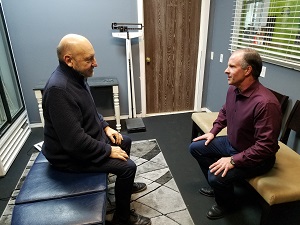 Since 1976, family health and well-being have been the focus of our chiropractic care center. Family Chiropractic Centre is dedicated to working with active family members, including newborns, children and moms-to-be to weekend warriors, those in the workforce and active seniors. We place particular emphasis on a gentle and comfortable adjustment style that helps our patients live a more abundant life.
Our Mission and Hope
Our mission is simple: we want each patient that walks through our door to reach their maximum genetic potential. It's often easiest to achieve this goal if consistent chiropractic care begins in childhood. Kids respond so rapidly to treatment, and their inborn immune response is easy to activate.
We Want to Be of Service
Our passion for what we do hasn't ebbed one bit in our over two decades of active practice. We still maintain high expectations for every patient we care for, and we continue to go the extra mile to ensure your well-being and satisfaction.
We treat our patients like family and would do for you what we'd do for one of our own. We feature on-site digitalized X-rays and are in-network providers. Contact us today and let's get started!
---
About Family Chiropractic Centre | (509) 452-0738