New Patient Center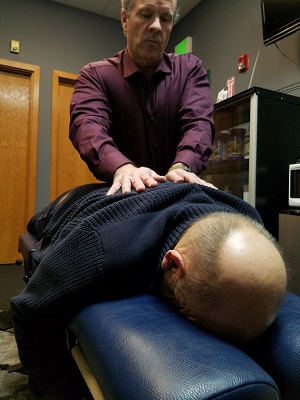 Family Chiropractic Centre specializes in the treatment of auto, work and sports injuries.
If you're visiting our Yakima chiropractic care center for the first time, we'd like you to know exactly what to expect. We want to make sure that you feel relaxed, comfortable and confident in choosing to make us your family practitioner.
Family Chiropractic Centre is often described as being warm and inviting where everyone feels at home. We feature handmade quilts in every room, with a comfy vibe throughout the clinic. We hope you think so, too.
Your First Visit
Your first visit will take approximately 30 minutes to one hour. As you enter the practice, you'll be greeted with a big smile and you will be invited to sit down to complete your new patient paperwork.
You'll then be introduced to Dr. Gerald, who will conduct an in-depth consultation and then after a thorough examination. If medically necessary spinal X-rays are needed… he will then typically conduct them at this time as well.
Typically, after this is done, A first treatment will then be performed and you will receive your first gentle chiropractic adjustment.
Your Second Visit
Your second visit will take about 30 minutes. During this appointment, Dr. Gerald will evaluate your examination and digitalized X-ray findings to help you understand the source of your problem. He'll then discuss customized treatment options accompanied by specific goals to help you start feeling your best. Your visit will conclude with your second adjustment.
Ongoing Chiropractic Care
While on a corrective care program, subsequent visits only take about ten to fifteen minutes. Once your spine has stabilized and you're feeling great, then we can discuss ongoing wellness care.
We feel it's important to maintain your spinal correction and a healthy nervous system through consistent care, particularly if you're currently taking prescription medications or over-the-counter drugs. Doesn't it make more sense to continue with natural chiropractic care so that your body can completely heal itself, rather than constantly covering up symptoms with drugs? The choice is always yours.
Contact us today and allow us to help you regain and maintain your health!
---
New Patient Center | (509) 452-0738